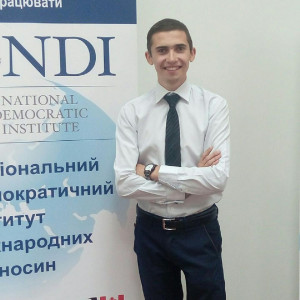 Education:
I. Universities: Zhytomyr State University named after Ivan Franko
Faculty: Educational and Scientific Institute of Philology and Journalism
Specialty: Philology * Language and Literature (Russian)
Educational level: Bachelor, I get an educational master's degree
II. Completed programs and trainings:
1) Being a Leader
2) "Ability to work in a team"
3) "Conflict Management"
4) "Managing an Emotional State"
5) "Personnel motivation"
6) "Staff Adaptation"
7) "Feedback"
8) "SMART Criteria"
9) Successfully completed the program "School of Public Administration: Leaders of Local Change"
10) "Citizen Participation Tools for Impact on Decision Making"
11) "Activation and self-organization of citizens"
12) "Trainings for trainers" by NDI
13) "Sales skill by phone"
ІІІ. Self-education: from 2013 I study psychology of emotions, verbal and nonverbal means of communication, at the time of filling this information (May 9, 2018) I work on the master's work "Nonverbal means of communication"
Experience:
1) Since July, 2014 I work as a sales manager at Telecontact Zhytomyr LLC
2) In August 2016 he became a member of the NGO "Youth for a United Ukraine", and from February 15, 2017, the deputy head of the organization
3) From February 2017 to May 2017 he was the head of the regional branch of the NGO "Ukrainian Students' Association"
4) From July 2017 to February 2018 he was coordinator of the NGO "Youth Human Rights Protection Agency" in Zhytomyr
5) Since February 2017 is an assistant to the project coordinator VI "Active community. The right to choose "in the city of Zhytomyr and since March 2017 became a communications coordinator of VI" Active Community ", the right to choose" in the city of Zhytomyr