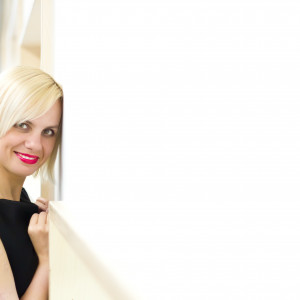 Oksana Vynnytska is a certified business trainer, HR expert with 7 years of experience, coach.
The organizer of networking events in the city of Lviv, a blogger with successful entrepreneurs in the city of Lviv "EXPERT".
More than 400 trainings and master classes for company employees in the areas of: FMCG, retail network, delivery services, energy, advertising business, production.
Practical experience in sales of services (life insurance) for more than 3 years.
Experience of practical field coaching in sales over 2 years.
Collaborated with such companies as:
PJSC "Mykolayiv cement" (Lafarge) in the personnel department, the number of employees in the company is 560 people.
Power supply company PJSC "Lvivoblenergo", number of 4600 employees, as a specialist in the development of HR personnel and personnel development. Staff training and development: "Master's School", "Leader's School".
The National Delivery Service in Ukraine, LLC "Intaym", with a staff of 2,400 employees, is at the position of Corporate Business Trainer of the Western region (110 branches). Implementation of Customer Service Standards and Mentoring Systems from "zero".
Galitsiya-Trade Ltd (group of companies T.B.Fruit, production and sale of direct spin juices) as a manager of personnel, recruiting (closing vacancies of the management) and adaptation of the personnel.
S.Group (one of the largest national commercial and industrial enterprises of snacks and pulp and paper products) as the Corporate Business Trainer of the Western region, conducting corporate trainings in the field of sales and field coaching for trading teams.
Bader Ukraine ( production) - conducting corporate trainings for the top managers and line managers for the development of managerial skills (the training program lasted 6 months, the training was carried out by 100 employees of various units from 3 plants)
Retail network of ecologically-friendly stores "EcoLavka" - training of tool sales and sales technicians, improvement of customer-oriented service with the help of field coaching of employees.
       Author's training:
"Sales Management"
"Effective communication"
"Managerial skills"
"Personal Effectiveness of the Head"
"Teamwork"
"Setting Goals: How to Achieve What You Want"
"Client-oriented service"
"Mentoring: A Practice for a Leader"
"Coaching in the work of the head"