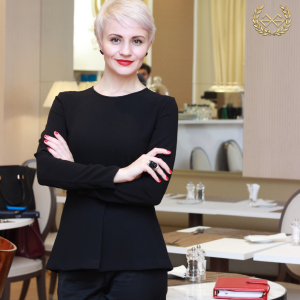 Education:
Donetsk Institute of Entrepreneurship - management of organizations
Kyiv University of Economics and Law "KROK" - training management
Isaac Pintisevich Systems - business trainer / business coach / business consultant
Continuous training at various courses, programs and trainings.

Experience:
5 years in the restaurant business
1 year in supermarket management
7 years in the banking sector - sales department of banking products
Since 2014 in the training business
Since 2016 - the founder and CEO of "Big City Coaching Company", which has two branches - in Kiev and Baku.
Since 2019 - co-founder in IT-startup "LNS Academy".
More than 300 hours of management coaching
The author of coaching programs in support of women's leadership and entrepreneurship
Author of a large-scale sales training "Big City Sales", which was attended by more than 600 employees of 8 banks of Kazakhstan and Azerbaijan, commissioned by Western Union
Author of the business project on financial literacy and entrepreneurship for children "Big City Child", implemented in a group and individual format in Ukraine and Azerbaijan.
Author of the training of emotional intelligence, based on personal experience of overcoming nerve exhaustion, emotional burnout and panic attacks.